Coupe vent Filet anti-remous compatible avec Smart ForTwo A450 2003-2007 Noir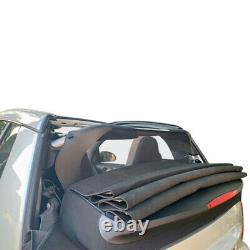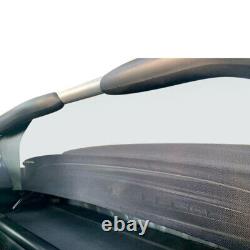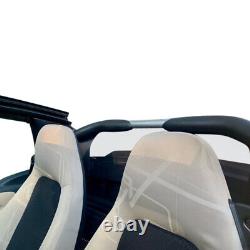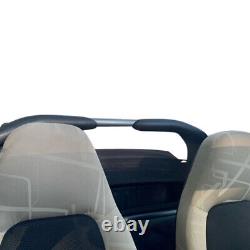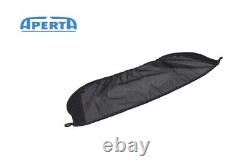 Cabrio Supply: The largest selection of convertible parts and accessories in the world. 365 jours pour les retours. Ajustement parfait pourSmart ForTwo 2003, 2004, 2005, 2006, 2007. Réduit les bruits de vent et les turbulences lors de la conduite à ciel ouvert. OEM Qualité: produit de EU. 80% Blocage du vent: Déflecteur de vent. 2003, 2004, 2005, 2006, 2007.
S'intègre dans la cabine. We do not deliver to the following postcodes: 971XX, 97133, 97150, 972XX, 973XX, 974XX, 97500, 976XX, 986XX, 987XX, 98799, 988XX (Guadeloupe, Saint-Barthélemy, Saint-Martin, Martinique, Französisch-Guayana, La Réunion, Saint-Pierre und Miquelon, Mayotte, Wallis und Futuna, Französisch-Polynesien, Clipperton-Insel, Neukaledonien) Nous ne livrons pas dans les régions avec les codes postaux suivants: 971XX, 97133, 97150, 972XX, 973XX, 974XX, 97500, 976XX, 986XX, 987XX, 98799, 988XX (Guadeloupe, Saint-Barthélemy, Saint-Martin, Martinique, Guyane française, La Réunion, Saint-Pierre-et-Miquelon, Mayotte, Wallis et Futuna, Polynésie française, Île Clipperton, Nouvelle-Calédonie). We do not deliver to the following postcodes: IM (Isle of Man), GG (Guernsey), JE (Jersey). The costs of returning the product are all for the customer.
SALE -items can only be exchanged for an item with an equivalent price or for an article with a higher price with an additional cost. You have too send a copy of the order confirmation, with the reason why it is send back and your personal information including bank information. The costs of returning are all for yourself. Cost of return will be the bill of the customer. Please read these terms and conditions carefully, because this document describes the Conditions (the'Conditions') upon which Cabrio Supply ('Conrad'/'We'/'Us'/'Our') makes a contract with you as a customer ('The Customer'/'You'/'Your'/'Yourself') for the sale of our product(s) (the'Product'/'Goods').
Conditions mentioned here apply to all offers of Cabrio Supply and to all agreements with Customers of Cabrio Supply. Unless it is an explicit exception, others than these Conditions are not legitimate. We maintain that, by confirming Your order, You unreservedly accept Our general conditions of sale, having read them. Conditions are important to you and Cabrio Supply as they have been designed to protect. Your rights as a valued Customer and to protect Our rights as a business and to create an understanding between us.
Ordering and realisation of an agreement 2.1. We are authorised to refuse orders below a certain order value or to calculate extra charges for these orders. Further, we have the right to ask The Customer to make a prepayment. If it is not possible for Cabrio Supply to accept an order for a certain product, no matter the reason, Cabrio Supply will try to deliver a comparable Product with regard to price and quality.
The order will be accepted after agreement has been reached. It is the customer's responsibility to save a copy of and/or print these emails for future reference.
The contract's content will be stored. You may store the general terms and conditions and readily look them up.
For safety reasons your order's data are not available via internet. We keep these data in confidence ac-cording to our privacy policy.
As long as there is no official agreement, Cabrio Supply reserves the right to change prices and other conditions. The prices on the Cabrio Supply website's are the actual prices.
Prices of Goods in mailings can deviate because of price changes that have been carried through after sending the mailings. Greement, Cabrio Supply has the right to change prices and other conditions. Cabrio Supply determines the manner of transport and the transporter. Cabrio Supply has the right to deliver orders partly. There are no extra costs for partly deliveries or later deliveries.
Despite all carefulness regarding deliveries, it might happen that Your order is delivered incomplete. If this is reported by The Customer in seven days after (partly) receiving the Goods, the order will be replenished or placed a second time at the expense of Cabrio Supply. Paying in advance is only possible per bank account. Cabrio Supply can then postpone the following of obligations or dissolve the agreement in letter.
Cabrio Supply is irrevocably authorised to take the Goods back if these still are the property of Cabrio Supply. In addtion to their statutory rights, customers may return items within 30 days of the date they received the item without giving any reasons. Your right to return items voluntarily does not affect your Right to Cancel, or your statutory rights. The following categories of Goods are excluded from the right of return: - convertible hoods ordered in any other color than black.
Window sections which have been partly assembled by The Consumer. Custom-made items tailored to the Consumer's own specifications, or items personalised in any way; - custom-made items assembled using standard components, configured to consumer specification, as soon as they have been used or put into operation; - batteries, rechargeables, chargers,, etc.
If removed from their original packaging; - all types of kits, already fully or partly assembled by The Consumer; - spares and replacement parts as well as special items ordered by The Consumer, including items ordered by Cabrio Supply on behalf of The Consumer; - wholesale items subject to discounts, or governed by agreements other than our GTCs. In order to exercise their right to return, the customer is not required to return the goods within the cooling off period, but must inform Cabrio Supply in writing/another durable medium of their intention to withdraw from the contract within this time limit. If you wish to return your goods please use the facilities at your nearest DPD parcel shop. On this form you must tell us what action you wish us to take, e. To help improve our products and services, it would help us if could detail the reason why you wish to return your item(s), but this is not obligatory. Please also enclose a copy of the original invoice, if available.
Have not paid yet, we will make a credit note to stand against it. Please note: any provisions mentioned in the "30 day trial period" do not affect your statutory right to withdrawal.
Cabrio Supply will repair the deficiency, subject to 8.2, free of cost or replace it (to be decided by Cabrio Supply). There have been made modifications to the Product - deficiencies which originate from wrong or incorrect use, such as ignoring the accompanying manual. The deficiency originates intentionally or because of a severe lack of attentiveness - external factors out of the control of Cabrio Supply, such as a flash of lightning, electricity fall-out, natural disasters, etcetera. Cabrio Supply has not had the possibility to investigate the complaint and to eventually repair the deficiency. We cannot process your return unless the reason is specified.
The Product(s) need to be packed with the original packaging, including the original invoice, all materials and accessories. Personal customer information is saved to and stored on Cabrio Supply customer management system to process orders.
Cabrio Supply will not use this information for internal marketing goals, such as sending mailings, without the customer's explicit consent. We will always comply with the Data Protection Act 1998 and subsequent legislation related to sensitive data and personal information. Cabrio Supply is not responsible for its provided (technical) advices, misprints in mailings, technical specifications which have been provided by suppliers and manufacturers, and uncontrollable bad quality of Goods. For the rest, each responsibility of Cabrio Supply is restricted to the actual payed amount of the relevant invoice. Terms of website use 12.1.
You are only allowed to use the material contained on this website for Your own personal and non- commercial use. You agree not to intentionally misuse our website.
Our website may contain links to other websites unrelated to us. We are not responsible for the content or practices of these websites. At its latest during the finishing of the agreement, these Conditions are offered by Cabrio Supply (non-)electronically. It is The Customer's responsibility to print or save the Conditions.
We reserve the right to randomly monitor and record inbound and outbound calls. These Conditions are based on UK legislation.
Disagreements will be solved in mutual consultation as much as possible. Registered Office under Registered No. VAT No: NL1007.64.496. Cabrio Supply shall not be liable to The Customer or deemed to be in breach of contract by reason of any delay in performing, or any failure to perform, any obligations of Cabrio Supply in relation to its Goods, provided that the delay or failure was due to any cause beyond reasonable control of Cabrio Supply.
Without prejudice to the generality of the abovementioned, the following shall be regarded as causes beyond reasonable control of Cabrio Supply: Act of God, explosion, flood, tempest, fire or accident; war or threat of war, sabotage, insurrection, civil disturbance or requisition; acts, restrictions, regulations bye-laws, prohibitions or measures of any kind on the part of any governmental, parliamentary or local authority; import or export regulations or embargoes; strikes, lock-outs or other industrial actions or trade disputes (whether involving employees of Cabrio Supply or of a third party); difficulties in obtaining raw materials, labour, fuel, parts or machinery; power failure or breakdown in machinery. All trademarks are acknowledged All prices correct at time of release. All price subject to change without notice. All Deal of the week offers are valid for one week (7 days) from the release date.
All 48hr deal offers are valid for 48hr from the release date. 24 Hour deals a re valid for 24 hours. Our customer service department can be reached at. Monday until Friday from 09.00 a. M We are open for business from Monday until Friday from 09.00 a.
Is the day inconvenient for you? Not at home when the DPD driver comes? That way, you get your parcel as soon as possible, and you decide when you go to pick it up. Can I track the status of my parcel?
All you need is the 14-figure parcel number. Please note- this may vary for non-mainland UK addresses. If a fault is found with any of our products we will pay for the courier to collect and return at no cost to you. Inscriptions À propos de nous Commentaires Contact Dans cette boutique en ligne, vous trouverez le plus grand assortiment de pièces et d'accessoires de cabriolet au monde.
Nos produits sont proposés dans cette boutique en ligne et dans notre showroom à Vaassen (Pays-Bas). Avec une gamme de plus de 10 000 articles, nous servons des clients partout dans le monde. Cet item est dans la catégorie "Auto, moto - pièces, accessoires\Automobile : pièces et accessoires\Extérieur : pièces et accessoires\Gardes-corps et protections\Pare-soleils, déflecteurs de vent et d'insectes". Le vendeur est "cabrio-supply" et est localisé dans ce pays: NL.
Cet article peut être expédié au pays suivant: Monde entier.
Type: Déflecteur de vent
Marque: Smart
Couleur: Noir
Matériau: Polyester
Articles inclus: Quincaillerie de montage
Garantie fabricant: 2 ans
Pays de fabrication: Pays-Bas
Compatibilité universelle: Non
Numéro de pièce fabricant: 33.04.01.01
Emplacement sur le véhicule: Arrière
EAN: 8720634426220